How can fleet managers improve pedestrian and cyclist safety?
---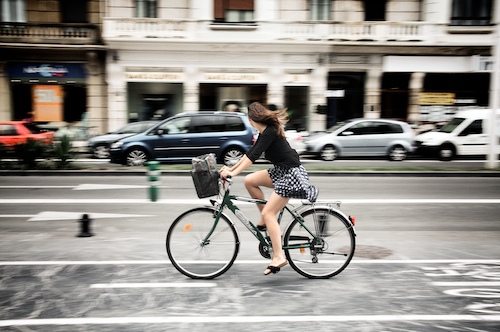 We have discussed how fleet managers can reduce road risk and fleet insurance premiums in a previous post, and today we wanted to extend this discussion. Much is being done to ensure the safety and security of fleet companies and their drivers, but this does not get reciprocated to the most vulnerable of all road users.
Research performed by BRAKE, the road safety charity along with the Licence Bureau revealed that 54% of companies do not provide any driver education on how to best protect cyclists and pedestrians and 68% don't receive any instruction to slow down around built up areas, schools, homes and shops.
Brake's senior professional engagement officer Ellie Pearson, says:
"Employers have a crucial role to play in preventing people on foot and bicycle needlessly losing their lives or suffering terrible injuries."
"It is disappointing that many employers are failing to take simple steps to ensure their drivers are doing everything possible to protect pedestrians and cyclists."
Brake is encouraging employers to sign up to take part in its road safety week which takes place November 17th – 23rd, and this will focus on the theme 'look out for each other'.
Companies that do register get a free pack of resources to help them promote safe driving messages and this can include information on raising internal awareness, launching new risk management initiatives, or working with the local community.
But what is currently being done?
On July 10th 2014, Transport for London (TfL) set out London's first Pedestrian Safety Action, which aims to reduce the number of people killed or seriously injured on London's roads, by 40% by the year 2020. The initiative prioritises the safety of cyclists, motorcyclists and pedestrians, the most vulnerable of road users.
Recent Government figures show that 163 people are killed or seriously injured every week in, whilst walking or cycling, with 24% of these involving a vehicle being driven for work purposes. These figures account for 59% of the total number of road deaths in the UK.
But with such measures being undertaken by the public sector, what can private transport and fleet companies do to improve pedestrian and cyclist safety?
Driver Responsibility – All employers need to ensure that drivers understand it is their responsibility to protect vulnerable road users. Duty of care should extend beyond the remit of fleet managers and into the fleets themselves.
Education and Instruction – Fleet managers must provide clear instructions on simple steps their drivers can take to minimise risk. This should include checking mirrors twice at junctions for cyclists and motorcyclists, slowing down for corners and turning off mobile devices.
Route Planning – This should include planning routes to avoid city centres, schools and residential areas, and allow realistic times to complete journeys, factoring in possible delays so drivers are not tempted to increase their speed or take risks.
For companies who have to venture through built-up areas, there are a number of urban driving courses specifically designed for HGV, LGV and PCV (Passenger carrying vehicles) drivers.
Vehicle Technology – All fleet managers should utilise the latest available technology, especially those with large commercial vehicles. Using front facing vehicle cameras and telematics enables fleet companies to monitor employees and provide invaluable data on their driving.
Drivers who are being monitored are more conscious of their speed and driving behaviour and coupled with front, rear, side and blind spot sensors, cameras and wide angle mirrors will greatly reduce the chance of an incident.
Accidents involving pedestrians and cyclists are devastating and too common of an occurrence, yet they are completely preventable events. All fleet managers and the companies they work for need to successfully deliver work related road safety messages to their employees, regularly engage with them and incorporate every action possible into their risk assessments.
Related Articles