Building a business is a bit like jumping out of a plane…the risk always seems much higher than the reward!
---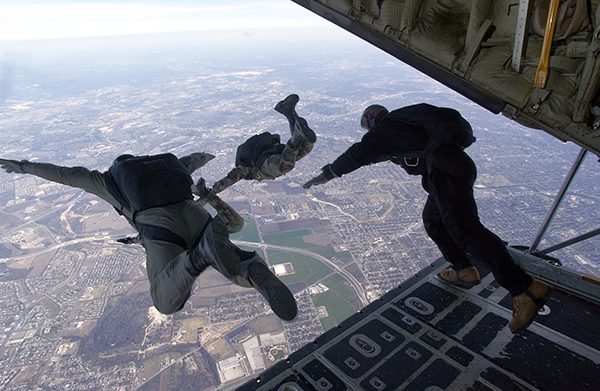 Building a business is a bit like jumping out of a plane: it's all a bit surreal. Like nothing you have ever done before. You ask yourself why am I doing this? And then, you pluck up the courage to take the leap and realise you made the best decision you ever made.  The anticipation is hugely exciting, but as the pace of trade quickens, it's easy to feel a bit lost and uncertain about your risk profile.
There's a simple answer to these worries: package policies. These are types of cover that protect businesses from a range of threats, from damage to property to employees. Don't take a risk by being under-insured! Carryon reading to find out more about the business insurances defined within a "package policy".
Business buildings insurance
If you have business premises, for example an office, shop, or restaurant, you'll need to have cover to guard against risks to the building. This could be anything from a car crashing into your front wall to the roof blowing off in high winds. Buildings insurance is not required by law, but most mortgage providers will insist that you take out a policy before they give you a loan.
Even if you own your business premises outright you should still consider buildings insurance to cover you against the cost of repairs or rebuilding your property. If you rent your business premises, buildings insurance is your landlord's responsibility ­– but you may consider taking out contents insurance to protect your stock and equipment. You should always insure your business premises against the cost of rebuilding the property, not against its sale price or current market value.
Business contents insurance
As recent floods, have demonstrated, it doesn't take long for a business premises to be wiped out, whether this is from water, fire, burglary or any other reason. It can cost thousands of pounds to fit out an office – more if you include electronic equipment or specialist devices. Having insurance will help protect you from these losses.
If your business uses a lot of specialist equipment, there might be a specialist policy which would suit you. For example, insurers often offer IT equipment cover, plant and machinery or tools and equipment insurance. These types of cover reflect the unique value and characteristics of your company.
There are two types of contents insurance policy for business equipment:
Replacement – policies that replace an item that has been stolen or damaged beyond repair with a new one
Indemnity polices – these policies take wear and tear into account, replacing your items at their current value.
Business interruption insurance
It's a sad truth that some small businesses don't make it – when times get tough, they don't have enough resource to weather the storm. Business interruption insurance is there to help you through. Cover for damage due to fire or flood usually only covers damage to property, for example, leaving you to cope with an abrupt loss of financial income for months or even years. This type of insurance helps to bridge the gap. It is usually offered as an extra when you buy buildings or contents insurance.
Business interruption policies cover:
any shortfall in pre-tax profits resulting from the event
any increased costs in running your business as a result of the event, such as extra accountants' fees
How are you protecting your business as it grows and develops? Are you confident that you're not being exposed to significant risks?
At Milestone, we understand the need for Commercial Insurance solutions that are as unique as the businesses themselves. Our experienced team will work with you directly, passing on a wealth of knowledge to try and provide savings that help protect both your stock staff and property. Our Commercial Insurance provides flexible cover in an increasingly litigious society, safeguarding you against the unexpected for continuity and peace of mind.
Call us on 0113 258 2219 for more information or email property@milestonehouse.com
Related Articles