Bad driving habits that are damaging your car
---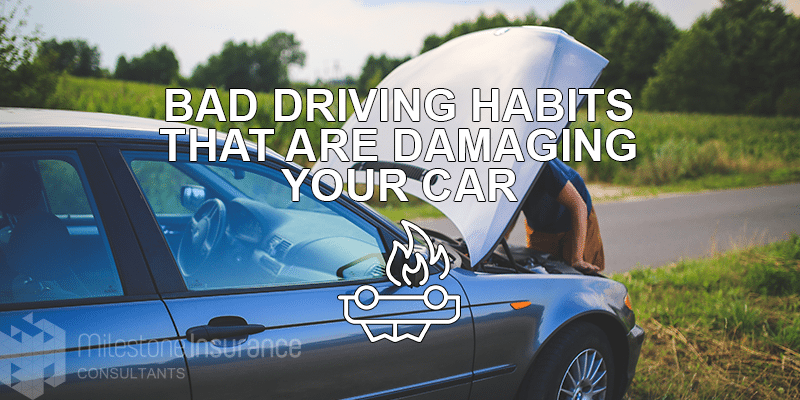 BAD DRIVING HABITS THAT ARE DAMAGING YOUR CAR
More often than not, it is only when we are in dire situations that we actually decide to fix our cars. Leaving things to rattle and squeak for longer than we should, while hoping for the best.
However did you know that you may be damaging your car just by doing what you regard as normal?
Here are 4 things that may be causing you more problems than you think:
COASTING
The act of coasting occurs when you keep your foot on the clutch pedal when it's not needed, allowing the car to keep rolling whilst not in gear.
This can cause serious wear on the engine's rotor and your brake pedals as well.
It also causes you to have less control over the car's steering and braking which could result in an accident.
NOT CHECKING YOUR TYRES
In order to be road legal, a minimum tread of at least 1.6mm is required, however the correct tyre pressure can be very important to make sure you have enough grip whilst cornering and braking.
If your tyres are under-inflated, this can speed up the rate of deterioration on the tread.
On the other end, if your tyres are over-inflated, this could result in a blow-out.
LETTING YOUR FLUID RUN LOW
If your screen wash is empty you may end up with scratches on your windscreen as your wipers can scrape dirt and other debris over the dry glass.
Having low oil can also cause engine components to seize up.
Also if you wait until your fuel drops down to the minimum this can also cause problems, as contaminants at the bottom of your fuel tank will be drawn through, which create blockages.
DRIVING OVER POT HOLES
It's not always easy to avoid pot holes in the UK as most of our roads are plagued with them, but your suspension springs will be a lot better for it if you can.
It's also helpful if you try to avoid mounting kerbs too often and slow right down when passing over a speed bump.
To cover you for when the worst happens and you're waiting by the road side, we do supply breakdown policies that can run alongside your taxi insurance policy – please enquire on 0113 258 2219.
Related Articles